Initiating a Interac Withdrawal--Step-by Step Instructions
Interac eTransfer
is our most popular payment method. You can use your bank account from participating banks/Credit Unions, to make a withdrawal directly to your bank account. The process is quick & easy.
1. Select INTERAC from withdrawal methods, then enter the amount you would like to cash out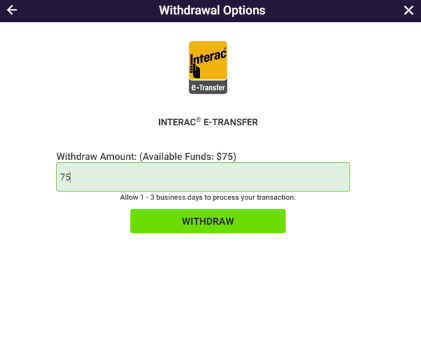 2. You will receive an email with further instructions and a password from our payment provider in 1-2 business days.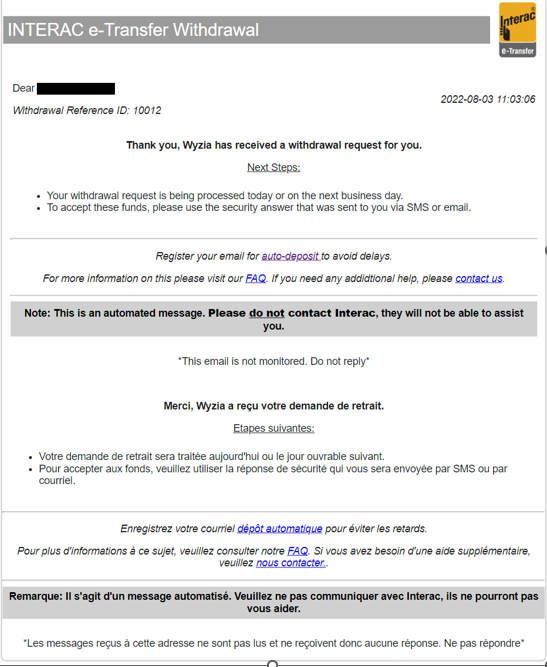 3. Once you accept the funds, you will be required to select the bank you would like the funds deposited into.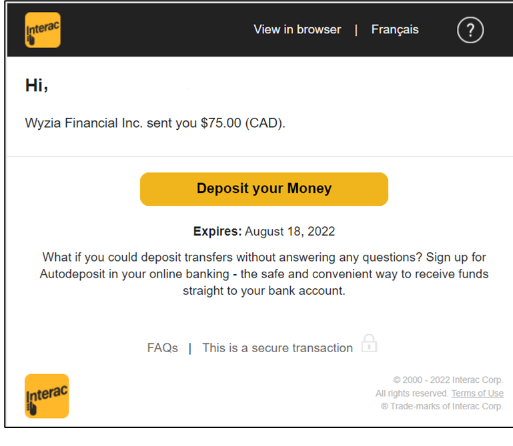 Related Articles

What can cause a delay in processing my Interac withdrawals?

All withdrawal requests are subject to internal security verification and if there are no issues, the withdrawal request will be processed within 7 business days. Once the transaction is processed, it may take longer for the money to reach you. What ...

How can I withdraw funds?

At CanPlayCasino.com, we take your account and financial security seriously. We have in place processes that protect you and us from any potential fraud. We allow players to withdraw only if all of the following have been completed - Your email ...

Cancel my withdrawal

You can cancel any pending withdrawals at any time. The funds will be released back into your gaming account and will be available for playing games. You can cancel your pending withdrawal either from the deposit menu or the withdrawal menu. From ...

Interac Transfers

Interac provides 3 ways of depositing and not all financial institutions support all 3 of them. Online: You are taken to your bank site and when you complete the transaction, the funds are immediately received in the gaming account. eTransfer: You ...

Interac Online

Interac Online is a very popular payment method in all of Canada. You can use your online banking access, from participating banks and Credit Unions, to make a deposit directly to the gaming account. Select INTERAC Online from the deposit methods ...